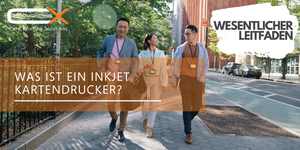 What Is An Inkjet ID Card Printer?
Specialising in id card printers we are always on the lookout for new,  versatile print solutions. Inkjet card printers deliver brilliant print quality and due to developments in technology, inkjet card printers are now one of the most versatile ID card printers on the market. As well as being able to print on id cards of many sizes the inkjet card printer is also capable of printing on a range of materials such as wood, paper and metal, as well as traditional PVC solutions.
What is an inkjet card printer?
Unlike direct to card and retransfer id card printers, inkjet ID card printers don't use heat and ribbons to create an image. An inkjet card printer uses a printhead and cartridge, the same as your home printer, to recreate images with ink droplets. This print method allows you to print on different materials and create higher resolution images.
The use of ink droplets has historically created issues due to 'drying' time required. However due to modern UV curing systems built into the machines the ink adheres to PVC and most materials and offers an instant card.
What are the key benefits of inkjet card printing?
Inkjet ID card printers feature a range of different printing effects (emboss, braille and varnish) as well as being able to print edge to edge in a range of different card sizes (CR80, CR100 and many more), as well as offer RFID and coding integration. Making it a great solution for those looking for instant issuance,  increased versatility and personalisation.
How do inkjet card printers work?
To make it simple an inkjet ID card printer essentially work in a similar way to the office desktop products you might be using to print paper documentation. Instead of using the CIJ (continuous inkjet) it uses a more modern DOD (drop on demand) thermal print process involving the ink being forced out of a nozzle and onto the card material. We also include UV curing process drying the ink instantly so that when the card is full printed, it can be handle immediately without worry of the ink running or smudging on your hands. This allows for instant issuance of all cards without any mess. We can now also print onto more eco-friendly materials because the ink can adhere to most types of card materials, unlike the dye sublimation card printers we discussed earlier. It also means that the inkjet technology can offer you over-the-edge or bleed printing (no white lines around the card), which is a limitation of the dye sublimation direct-to-card printers in our industry.
artisJet Proud Inkjet ID Card Printer (€18.000,00 zzgl. 19% MwSt)
Equipped with a high resolution UV inkjet print engine, accurate automatic card feeding system and a wide range of encoding options the Artisjet proud is designed for high operation requirements, such as events, and those where customisation of supersized cards is required.
The artisjet proud inkjet ID card printer can be integrated with third-party systems to ensure an efficient and reliable solution for all event occasions. As well as featuring a full format edge to edge printing with Patent Bleed Technology the artisjet proud is designed to ensure the printer is bleed-free and deliver a quality finish every time.
Featuring:
Increased print durability - UV printing is more durable than thermal printing due to it not being affected by temperatures, humidity etc.
High quality print resolution – 1440 dpi with 3.0 Pico litres.
Easy cost per print calculation – The artisJet Workstation software will demonstrate how much ink will be consumed prior to printing as well as the estimated print time.
Prints in Pantone Colours as well as CMYK – You can apply the Pantone colours by customising the ICC profiles on demand. Normally the artisJet Proud prints in CMYK.
Need more advice?
Contact us – Want to find out more about the right ID card size for you and your project? Don't hesitate to contact our friendly team today for expert, tailored advice, with no obligation to buy.
ID Card Printers - Browse our full range of printers and learn more about the different card printer features.
Choosing the right ID printer ribbon - Read our guide to printer ribbons, which explains how to choose the right consumables for your card printer.
What is Edge-To-Edge and Over-The-Edge printing? – This guide breaks down the difference between ETE and OTE printers and why this is a key consideration for buyers.
---